Stainless Steel Letters, Metal Numbers, and Stainless Steel Logos Made to order by ArroSigns
Makers and suppliers of quality stainless steel letters for Business and Industry.
Popular with Shops, Restaurants, Quality Garages, and the Leisure Industry.
We also supply stainless Steel Letters for Property Names and house numbers.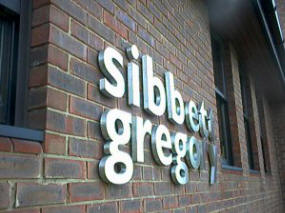 BUILT UP METAL LETTERS
Built-up stainless steel letters are manufactured from 0.9/1mm stainless with a flat face and welded returns. The returns are usually around 10% of the letter height, and all letters are made to order, due to the nature of their construction the choice of fonts/typestyles is limited. Letters are available in a brushed or polished finish as well as a painted finish. letters are supplied with either brass locators on the back or stainless steel rod fixings. Our letters are made from 304-grade stainless steel, suitable for most situations, 316-grade stainless steel is recommended for marine environments and coastal areas.

STAINLESS STEEL APPLICATIONS
Stainless steel letters are used as a prestigious way to name office blocks, head offices with the companies name, hotel branding, shop fascias, car showrooms, industrial units, private houses, industrial parks, boat names, school, college or university identities, wine bars, restaurants & bars – house numbers, floor levels in flats/offices, the list goes on.